Vertical Ergonomic Mouse
Do your wrist and hand hurt from computer use? It's nothing new; holding your hand in the same position and making repetitive movements with the computer mouse can strain your hand.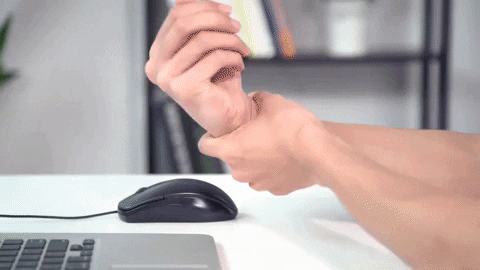 So what's the solution? Our wireless & wrist-friendly Vertical Ergonomic Mouse will hold your hand in a "handshake position," preventing your forearm from twisting and keeping it neutral, healthy, and comfortable. What's more, the "forward" & "backward" buttons on the mouse allow fast browsing/navigation! 
Enjoy pain-free workdays or gaming sessions, order The Vertical Ergonomic Mouse!
✓  Ergonomic design that is used vertically, unlike ordinary mouses, to keep your hand neutral and in a healthy position.
✓  High-quality plastic material that is soft to the touch and fits the hand perfectly to bring maximum comfort.
✓  Wireless with USB receiver; you won't deal with tangle and get annoyed by it while working/gaming.
✓  1600dpi for laptop or desktop so you can take it with you to work and boost your performance.
✓  Adjustable DPI setting that allows you to adjust speed while using it.
✓  Easy to use with smart connectivity (photoelectric sensor system, forward, backward, DPI switch button, scroller, left/right buttons); no need to for code, just plug and play.

✓  Specifications :

Material: Plastic
Color: Black
Power supply: 2 x AAA batteries (not included)

 
✓ Package list :

1* Wireless Mouse
1* USB Receiver