Ultrasonic Animal Repeller

Are you tired of animals and unwanted pests lurking around your garden? Eating your plants and leaving their stinks everywhere?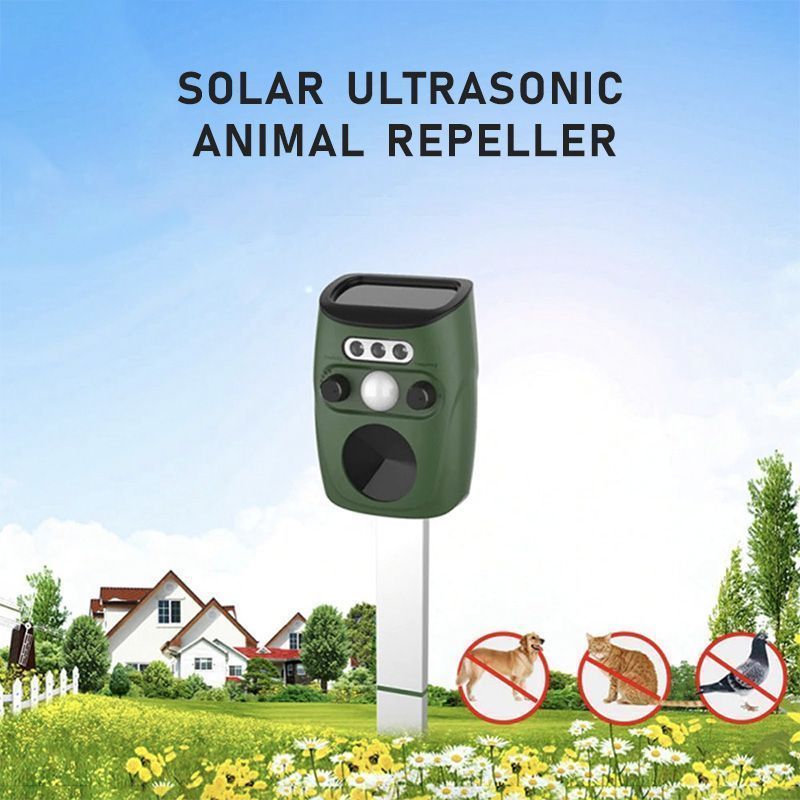 You don't have to harm or kill them, instead, get The Ultrasonic Animal Repeller that will efficiently and safely get rid of them completely as soon as they enter your territory. The Ultrasonic Animal Repeller sends harmless ultrasonic waves that will get them away quickly but never hurt them… or you!
Get The Ultrasonic Animal Repeller quick before they are all gone!!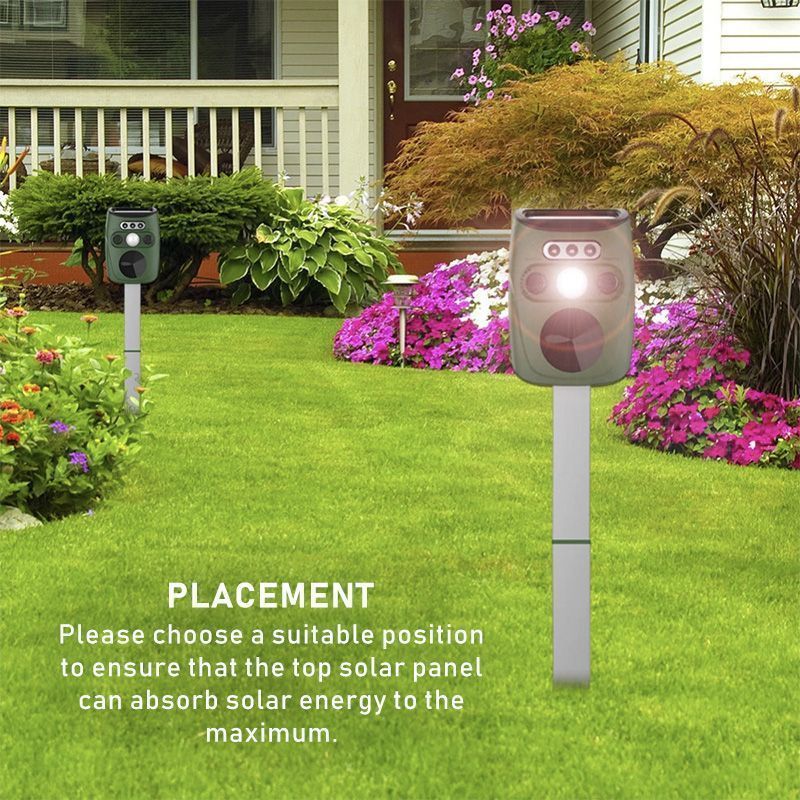 ✓ The ultrasonic animal repeller will keep all animals, rodents, and pests away from your garden. 
✓ Motion sensor technology that senses when an animal enters the protection zone.
✓ Safe & harmless ultrasonic waves that will not hurt you or your family.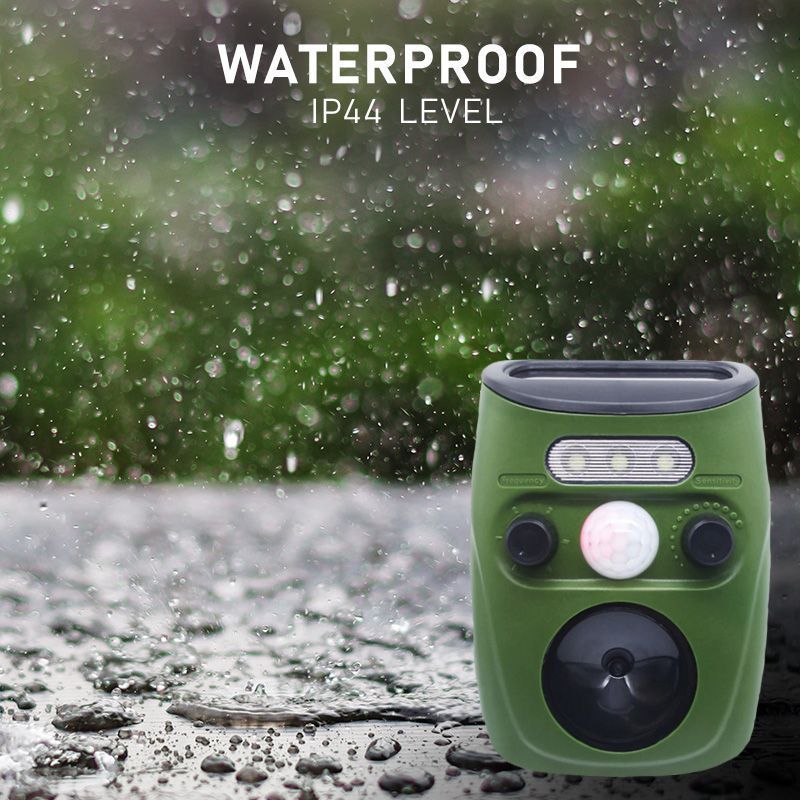 ✓ Eco-friendly & environmentally-friendly that will not harm any animal or rodent in the process.
✓ Solar-powered to effectively charge during the day without worrying about power outlets.
✓ Waterproof & windproof to keep it working under any weather condition.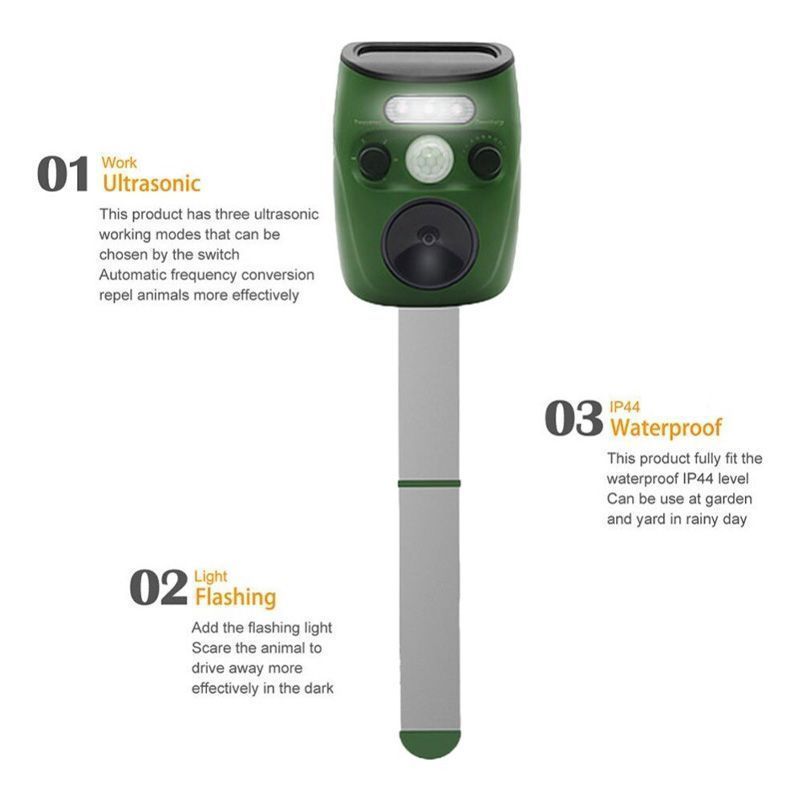 How it works
-0: Off
-1: 13KHZ-20KHZ can drive away mice, rats, minks and other animals
-2: 18KHZ-25KHZ can drive away cats, dogs, foxes and other animals
-3: 23KHZ-35KHZ can drive away deer, birds, monkeys and other animals
-4: Strong LED flash can drive away racoons, wild boars, minks and other animals
-5: All functions work at the same time, full wave band to drive animals and LED strong flashing
Effective range: at least 5-6 meters, up to 8-10 meters, angle 120 degrees. It depends on the size of the animal. The larger the animal, the farther the sensing distance.
The product contains a 3.7V 1200mAh lithium battery and USB cable. In case of long-term rainy weather, you can also use an additional DC adapter to charge the battery.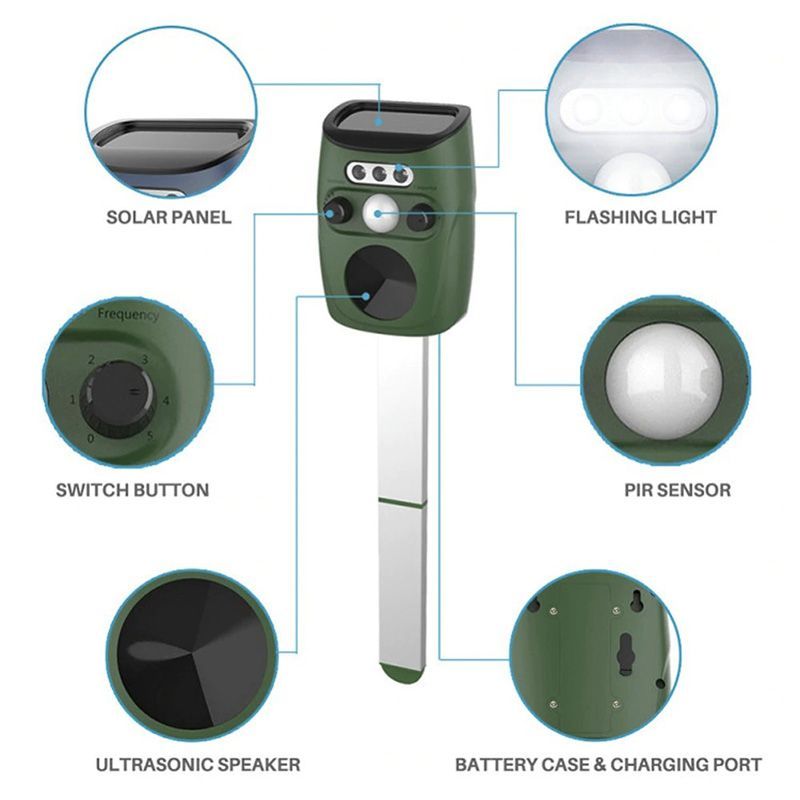 ✓  Specifications
Material: ABS, aluminum alloy
Product size: 38.5*9.5*6.4cm/15.16*3.74*2.52″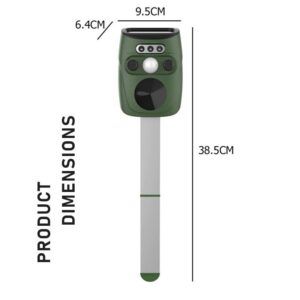 ✓  Package List
1* Solar animal repeller