Car Radar Detector
When driving, you may get a little distracted or too focused in a conversation with the friends sitting with you that you forget to pay attention to the radars, and that's how you end up paying for expensive speeding tickets Every. Single. Time!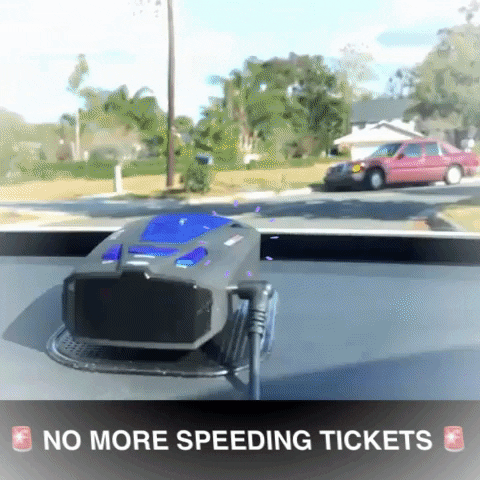 Be aware of all the radars ahead of you with the intelligent Car Radar Detector that supports K and Ka radar frequencies, along with extreme range super heterodyne technology, to make sure you are never getting caught off-guard by hidden radars again! You will be alerted by voice and LED text for more convenience. Install The Car Radar Detector in your car to have a chance of enjoying a safe and pleasant driving experience!
Say no more to speeding tickets and order The Car Radar Detector!! 
✓  The car radar detector will help you drive safely by detecting all the radars in your path.
✓  Extreme Range Superheterodyne Technology & Super-fast sweep circuitry that will detect stable and mobile radars 800-1500m ahead.
✓  Supports K & KA radar frequencies to ensure you never get caught again!
✓  Highly accurate radar detector that quickly detects the radars to help you avoid expensive speeding tickets.
✓  Voice & LED text alert to let you know when you come close to a radar source.
✓  Ultra-bright LED to provide precise information about which band of radar is hitting you.
✓  Bilingual radar detector that speaks both English and Russian.
✓  Slim & elegant design that can fit in any car interior.
✓  Easy to install & control as it requires no special installation or tools.
✓  Specifications :
Product material: plastic
Product color: Blue, Black, Red
Product weight: 170g
Product size: 62*42*30mm/2.44*1.65*1.18″
Working voltage: car cigarette lighter 12V
Working current: 230mA
Working temperature: -30 to +70°C
Display type: Digital tube display
Reminder type: live voice prompt
Language type: English and Russian
Applicable models: universal
 Full frequency radar band :
X band: 10.525 GHz ± 100 MHz
K band: 24.150 GHz ± 175 MHz
K band: 24.125 GHz ± 175MHz
Ka Band: 34.700 GHz ± 1300MHz
Ka Band: 33.400 GHz ± 1300 MHz
VG-2 11.150GHz±175MHz
✓  Package List :
1* Car Radar Detector
1* Power Cord
1* Anti Slip Mat
1* Manual