LED Glasses Magnifier
If you're suffering from low vision problems such as glaucoma or just want to enjoy a complex hobby, you are most likely looking for a device that will give you the most relief possible.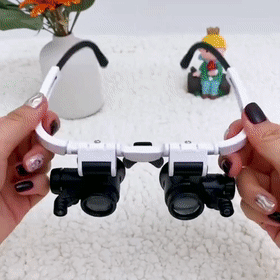 Equipped with a LED lamp and 10X 15X 20X 25X lens magnification, the LED Glasses Magnifier lets you easily & comfortably read smaller writings or view drawings on books or newspapers, and even create complex handicrafts or make electronic repairs, jewelry appraisal, etc.
Protect your eyes from strain and enjoy hobbies even at nighttime with the LED Glasses Magnifier!
 
✓ Durable plastic material that won't break and waste your money.
✓ Professional-quality & adjustable 8 optical lens with multiply magnifying options (10X,15X,20X,25X).
✓ White light LED lamp that is great for watch repair, jewelry appraisal, stamp collection, or just reading or viewing even when it's dark.
✓ Anti-slip rubber gasket to protect them from slipping and falling.
✓ Lightweight & portable to take with you anywhere and wear comfortably for long periods of time.
✓ Flexible design that is suitable for most head sizes so it will fit you just right and that you can wear with a head strap.
✓ 3x LR1130 batteries (Included) powered to give the light an extended life (Press then rotate the battery cover 30 degrees to take out the LR1130 batteries).
✓ Specification :
Color: Black
Material: Optical Glasses, Plastic
Lens Quantity: 8 (2PCS 10X, 2PCS 15X, 2PCS 20X, 2PCS 25X)
Lens Magnifications: 10X, 15X, 20X, 25X
Objective Lens Size: 15.8mm
Ocular Lens Size: 20mm
Two Wearing Manner: Glasses and Head Strap
Observing Distance: 20-50mm (Suggest 30mm)
Head circumference: about 590mm

 
✓ Package list :

1*  Supporting glasses magnifier with LED lamp
8* Lens
1* Strap
1* User Manual